Blackstorm
Gez Walton – Bass
Karl Middleton – Vocals
Neil Kingsbury – Guitar
Jon Perry – Drums
Tom Bates – Guitar
Blackstorm are four musicians from Brighton playing the heaviest of rock music.

Deftly combining elements of drone, stoner, down-tuned sludge with classic rock and the vitality of hardcore and punk, Blackstorm combines crushingly heavy, catchy-ashell riffs with juggernaut proportioned rhythmic grooves and killer hook laden vocals.
Full bio
Blackstorm take their musical cues from heavy weights such as Crowbar and High On Fire, but are no mere carbon-copyists. The quality of material on display here is a testament to the collective experience of the four musicians.
Eschewing the trappings of the contemporary scene, Blackstorm is a throwback to a time when music was created intuitively, without the self-conscious fashion driven posturing and cynical second-guessing that seems to be inextricably linked to today's breed of bands.
Having met in late '06 the four piece quickly realized that they had met musical kindred spirits in each other, and immediately started exchanging ideas. Fast forward to the summer of '09 and Blackstorm have played local shows with the likes of Cancer Bats, Kruger, Miramar Disaster, Johnny Truant and have recorded half a dozen killer songs.
Blackstorm aren't re-inventing the wheel and wouldn't claim to be, but make no mistake, they have fitted some damn fine chrome hubcaps and are hell bent on keeping the wheels of rock turning.
Raise the banner!
---
Releases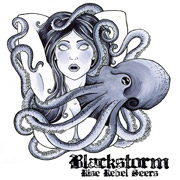 Rise Rebel Series
RELEASE DATE: Mar 9, 2010