Johnny Truant
Olly Mitchell – Vocals
Stuart Hunter – Guitars
Reuben Gotto – Guitars
Alan Booth – Bass
Paul Jackson – Drums

There are precious few British metal bands that could count nationwide critical acclaim, two performances at the legendary Download Festival (Donington Park), a live session at London's famed Maida Vale Studios by invite of BBC Radio One, and a thriving career in Canada as mere notches on the proverbial bedpost.
Truth be told, most bands would probably view such achievements as career pinnacles, but for Brighton, UK's JOHNNY TRUANT, these are all just pieces of a greater puzzle.
Full bio
With two albums under their belt – 2002's 'The Repercussions Of A Badly Planned Suicide' and 2005's stunning 'In The Library Of Horrific Events' – Johnny Truant have relentlessly toured the UK, Europe and Canada alongside the likes of Alexisonfire, Killswitch Engage, Cancer Bats, As I Lay Dying, Fear Factory and Stone Sour to name a few; not to mention their consecutive appearances at Donington Park in 2005 and 2006, the latter of which was a revelatory, second stage triumph for the quintet.
'No Tears for the Creatures' is the latest sonic assault asserting Johnny Truant's true musical potential and cementing their status as one today's most important metal bands. Recorded in the band's stomping grounds of Brighton, Olly, Stuart, Reuben, Alan and Paul hit their stride while writing as a 5-piece for the first time. Taking a more honest and introspective lyrical approach, Truant moves away from the metal core genre they are so often pigeon-holed in, towards honing a sound they can call truly their own.
'No Tears for the Creatures' will be released on Distort in Canada on June 3, 2008, as well as on United By Fate (UK) and Shock (Australia). The first single 'Death Rides' is ialready a fixture on BBC Radio One. Wade MacNeil (Alexisonfire) is featured on the track "Widower".
"They've barely touched the underground scene and are already making waves on the live circuit large enough to have their American contemporaries glancing nervously over their shoulders with their crunching litanies."
- ROCK SOUND
---
Releases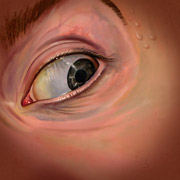 No Tears For The Creatures
RELEASE DATE: Jun 3, 2008
In The Library of Horrific Events
RELEASE DATE: Apr 6, 2006