Mandroid Echostar
Stephen Richards
Sam Pattison
Michael Ciccia
James Krul
Matt Huber-Kidby
Adam Richards
Mandroid Echostar is a six pieceprogressive metal band from Guelph, Ontario, Canada. Formed in 2010 by thefirst members; Matt Huber-Kidby, Sam Pattison and Adam Richards. The three cametogether as like minded musicians from the local scene, who saw the potentialin each other to create band that they had all envisioned. They began to laythe foundation for the sound, and with the additions of Stephen Richards, JamesKrul and Michael Ciccia over the course of 2011, they together created a sonicrepresentation of themselves and each other. The music they made together inthis first year would come to be the first release of the band. A four song EPshowcasing the musical ideals that brought them together. This self titled EPwas recorded early 2012, in their hometown with producer Jordan Valeriote, whohad produced such bands as Silverstien and Dead and Divine among many others.The record was mastered by Roger Lian, who has mastered bands such as Deftones,The Mars Volta, Thrice and many more. The lyrics were written by drummer, MattHuber-Kidby, and were inspired by a book called "Ishmael" which deals with themyths of our culture and our relationship with the world, That inspirationserved as a philosophy with which the band as a whole created a narrative forthe record. The EP was released independently on April 22nd 2012, and to muchacclaim, with placements in magazines such as Alternative Press and Frontmagazine, as well as far reaching internet coverage and many glowing reviews.This release saw the band embark on their first tours, firstly a Fall 2012Ontario/Quebec run named the "Hello? Yes, this is prog" tour with Intervals andEver Forthright, as well as a spring/summer 2013 tour with Courage, My Love.The band also played many headlining and support shows and festivals aroundOntario, Including a sold out debut home town show, their first appearance atKoifest in 2012, the Toronto Warped Tour in 2013 and many others. In this firstrecord cycle the band also focused on their internet presence, independentlyreleasing a music video, a drum play through, and most notably, a guitar playthrough for the song "Kingdom and the Crown" which was covered by the website"Metalsucks" and has amassed just shy of 400,000 views on youtube.
In early 2013 the band started to focuson their second EP, "Citadels". They recorded again with Jordan Valeriote, andagain, the record was mastered by Roger Lian. This record saw the band pushthemselves musically. With a solid year as a fully functioning band, Mandroidhad become a closer group both personally and musically. The idea of what theband was at the point was for more cohesive, which allowed them to dig deeperinto their own sound, as well as to experiment into new areas together. With"Citadels" the band also strengthened the ties between the music and the storyof the record, which would come to be an important part of their sound andwriting process. This record was also funded with a very successful crowdfunding campaign, through "Indiegogo". The band reached their goal of $7000with time to spare, and surpassed it by another 480$ before the campaign wasup. Once the record was completed the band spent the spring/summer touring andplaying festivals in support of the first EP, as well as to showcase some ofthe unreleased songs from the upcoming EP. Around this time Mandroid signedwith their Canadian booking agent, Jason Soulliere at The Feldman Agency. The"Citadels" EP was released on November 21st 2013, which coincided with thebands first ever headlining tour, which was a very successful run aroundOntario/Quebec. While on tour, the new EP was makings its waves on theinternet, with coverage and reviews from many establishments, includingMetalsucks!, Heavy Blog, and Exclaim! In late 2013, the band signed to theirCanadian record label, Distort records.
In2014 Mandroid began writing their first full length record and debut release onDistort records. While they wrote throughout the year, they also played manynotable shows, including; direct support for Megadeth, main stage at Koifestalong side Every Time I Die and Foxy Shazam, and Main stage at Lachie fest withJuly Talk and The Trews. As well as this the band toured Ontario with Protestthe Hero, and briefly again with Intervals and The Kindred. By the end of thesummer it was time for them to finish writing the record and to prepare tobring the new music into the studio. The new record "Coral Throne" was recordedin December 2014/January 2015 at Vespa Studios in Toronto with Juno awardwinning producers Eric Ratz and Harry Hess. "Coral Throne" is another conceptrecord, it is a speculative fiction inspired by the real histories ofcolonialism, cultural genocide, and the clash of organized religion andtraditional spirituality. Musically the record is a further realization of thebands vision, incorporating a wider array of feelings and sounds intocalculated and yet adventurous song structures. With the opportunities givenfrom a full length record the band was able to put everything on the table, andto give a clearer picture of what Mandroid Echostar is than ever before. Withthe release of "Coral Throne" on Distort records in fall 2015, MandroidEchostar is ready to bring this fully realized incarnation to the world.

---
Releases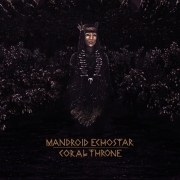 Coral Throne
RELEASE DATE: Jan 15, 2016