Apr 13, 2015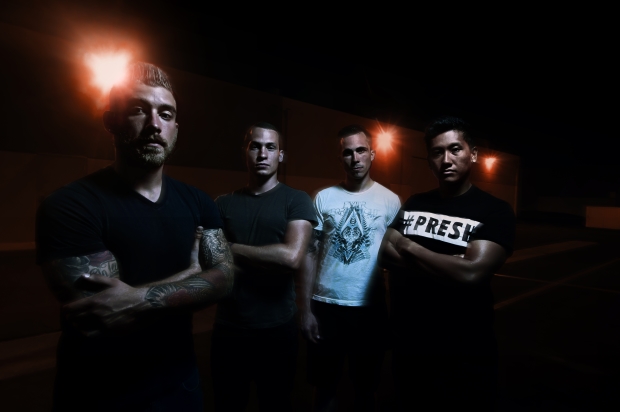 Canadian progressive metal band AURAS has inked a deal with Distort Inc. / Fontana North, with plans to release 'Crestfallen' an all new EP on May 5, 2015 in Canada.
"We are proud to announce that we have signed with Distort Inc./Fontana North and Goodfight/eOne! They will be helping us release our brand new 5-Track EP 'Crestfallen', which we can't wait for you guys to hear. We are super excited to be on the Distort/FN and GF/eOne rosters and look forward to working with such amazing teams!" - Josh Ligaya
The new EP will be the bands follow up to 'Panacea,' which was released in 2013 and is available for streaming on their official Bandcamp HERE. A standalone single title 'Adverse Condition' released just a few months later is also available.
Hailing from Waterloo, Ontario, Canada, AURAS is comprised of four friends; Josh Ligaya and Aaron Hallman (guitars), Eric Almeida (vocals), and Nathan Bulla (drums), bound by groove, and centered by a constant pulse. Specializing in adrenaline-clenching polymetric melodies and breakdowns heavier than your average cement truck.
The band recently announced a new batch of tour dates supporting the release of 'Crestfallen' beginning in Canada with CARDINALS PRIDE and NOW AND ON EARTH.
Then down into America with THE CONTORTIONIST and CHON.
CRESTFALLEN - TRACK LIST
1. Thrown - 3:39
2. Terrene - 4:24
3. Inordinate - 3:23
4. Adverse Condition - 3:40
5. Boundless - 3:53
QUEBEC Tour w/ CARDINALS PRIDE and NOW AND ON EARTH:
April 30 - Quebec City @ La Source de la Martiniere
May 1 - Trois-Rivieres @ Rock Café Le Stage
May 2 - Sherbrooke @ Le Magog
May 3 - Jonquiere @ La Salle des 4 Barils
USA Tour w/ THE CONTORTIONIST and CHON:
May 9 - Kansas City, MO @ Davey's Uptown
May 10 - Denver, CO @ Marquis Theater
May 11 - Colorado Springs, CO @ Black Sheep
May 12 - Albuquerque, NM @ Launchpad
May 14 - El Paso, TX @ Mesa Music Hall
May 15 - Converse, TX @ Jack's Patio Bar
May 16 - Dallas, TX @ Trees
May 17 - Memphis, TN @ The Abbey
May 19 - St Louis, MO @ Fubar
May 20 - Louisville, KY @ Expo Five
May 21 - Charlotte, NC @ Tremont Music Hall
May 23 - Lancaster, PA @ Chameleon Club
May 24 - Philadelphia, PA @ The Voltage Lounge
May 26 - Portland, ME @ Port City Music Hall
May 27 - Syracuse, NY @ Lost Horizon
May 29 - Cleveland, OH @ Agora Ballroom
May 30 - Detroit, MI @ The Shelter