Aug 12, 2014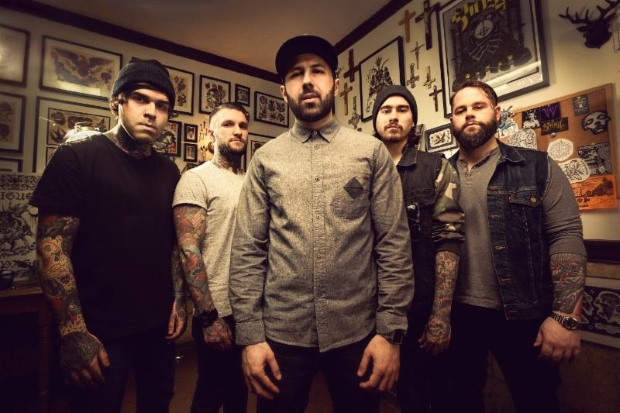 Obey The Brave have premiered their brand new track "Raise Your Voice" via Revolver Magazine along with revealing details of their sophomore album 'Salvation.' The follow up to 2012's 'Young Blood,' 'Salvation' will be released Septemeber 16th on Distort Entertainment in Canada and Epitaph Records in the US.
"Salvation represents us more accurately, as people, lyrically and musically," declares frontman Alex Erian. "It's got a bit more punk rock influence, a bit more hardcore. Deep down, we still have metal elements. We consider ourselves a metalcore band. We grew up in the hardcore scene, in the punk rock scene, and enjoy it all."
Obey The Brave will tour North America this fall with The Amity Affliction, including several Canadian dates which are listed below.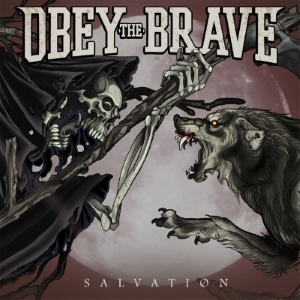 Salvation Track List
01. Short Fuse
02. Raise Your Voice
03. Up In Smoke
04. Into The Storm
05. Next Level
06. Back In The Day
07. I Am Winter
08. Lone Wolf
09. C'est La Vie
10. Full Circle
11. North Strong
12. Brave The Fire
OBEY THE BRAVE ON TOUR (CANADA)
Sep 25 Vancouver, BC - Tom Lee Music Hall
Oct 08 Toronto, ON - Tattoo Queen West
Oct 09 Montreal, QC - La Tulipe
Jul 16, 2014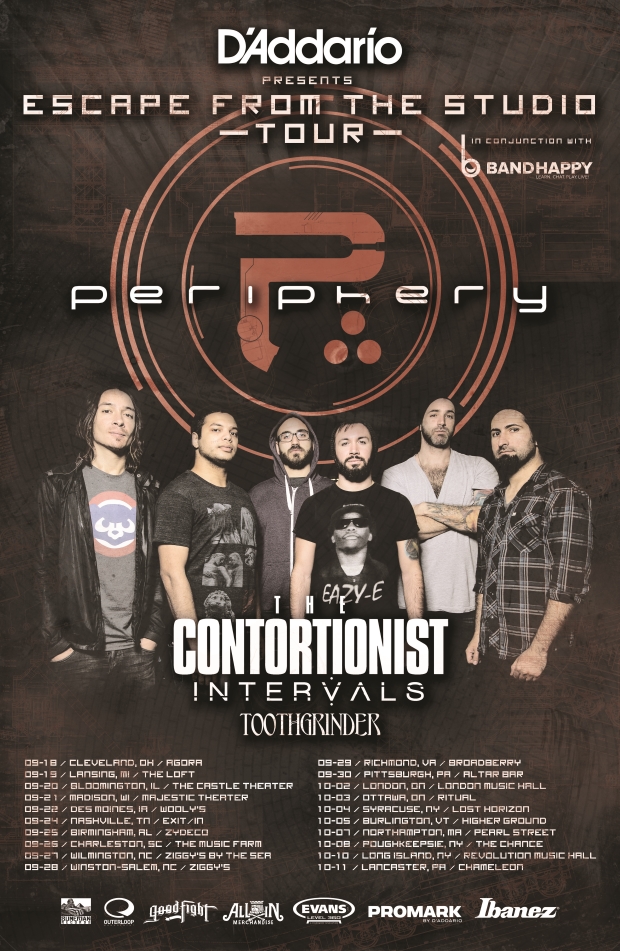 Periphery
have locked themselves away in the studio hard at work on 'Juggernaut,' the follow up to this year's 'Clear EP' and 2012's 'Periphery II.' Watch drummer Matt Halpern tracking drums (and annihilating drum heads) in their Studio Update videos, part
1
&
2
. The band is taking a break from the recording sessions this fall for the just announced 'Escape From The Studio' Tour alongside The Contortionist, Intervals and Toothgrinder! A special VIP ticket package will be available for fans who want to learn about the band's studio process and live setup, read more about it and see full dates below:
"Through the support of D'Addario and Bandhappy, Periphery will be offering Juggernaut Workshops, an exclusive invitation for fans to learn about the making of the album, experience a walkthrough of the band's live rig, hear tour stories during a meet & greet photo session, jump the line and for true fanatics, even view the show from the side of the stage. Tickets to the workshop will be available Friday July 18th, via the Bandhappy website."
PERIPHERY - Escape From The Studio Tour Dates
9/18
Cleveland, OH @ Agora Ballroom
9/19
Lansing, MI @ The Loft
9/20
Bloomington, IL @ The Castle Theater
9/21
Madison, WI @ Madison Theater
9/22
Des Moines, IA @ Wooly's
9/24
Nashville, TN @ Exit/In
9/25
Birmingham, AL @ Zydeco
9/26
Charleston, SC @ The Music Farm
9/27
Wilmington, NC @ Ziggy's By The Sea
9/28
Winston-Salem, NC @ Ziggy's
9/29
Richmond, VA @ The Broadberry
9/30
Pittsburgh, PA @ Altar Bar
10/02
London, ON @ London Music Hall
10/03
Ottawa, ON @ Ritual
10/04
Syracuse, NY @ Lost Horizon
10/05
Burlington, VT @ Higher Ground
10/07
Northampton, MA @ Pearl Street
10/08
Poughkeepsie, NY @ The Chance
10/10
Long Island, NY @ Revolution Music Hall
10/11
Lancaster, PA @ Chameleon
Jun 13, 2014
Obey The Brave and Crossfaith have been tapped to support The Amity Affliction's North American tour this Fall. The tour crosses north of the border 9/25 at Vancouver's Tom Lee Music Hall (without Crossfaith) and again in October for two dates in Toronto and Montreal after Crossfaith joins the lineup. See the full list of dates below.
With For The Fallen Dreams, Obey The Brave, Favorite Weapon & Exotype:
09/19
San Diego, CA – SOMA Sidestage
09/20
Anaheim, CA – Chain Reaction
09/21
Sacramento, CA – Assembly
09/23
Portland, OR – Hawthorne Theater
09/24
Spokane, WA – The Hop
09/25
Vancouver, BC – Tom Lee Music Hall
09/26
Boise, ID – The Shredder
09/27
Salt Lake City, UT – Murray Theatre
09/29
Denver, CO – Marquis Theatre
10/01
Chicago, IL – Bottom Lounge
10/02
St. Louis, MO – Fubar
10/03
Nashville, TN – The End
10/04 Indianapolis, IN – Emerson Theatre
10/05
Columbus, OH – The Basement

With For The Fallen Dreams, Obey The Brave, Crossfaith & Favorite Weapon:
10/07 Detroit, MI – The Shelter
10/08 Toronto, ON – Tattoo Queen West
10/09 Montreal, QC – La Tulipe
10/11 New York, NY – Studio @ Webster Hall
10/12 Philadelphia, PA – The Barbary
10/14 Springfield, VA – Empire
10/15 Greensboro, NC – Greene Street Club
10/16 Atlanta, GA – Masquerade
10/17 Orlando, FL – Backbooth
10/18 Tampa, FL – The Orpheum
10/19 Ft. Lauderdale, FL – Culture Room

With For The Fallen Dreams, Obey The Brave, Favorite Weapon & Exotype:
10/21 Dallas, TX – Trees
10/22 Houston, TX – The Studio @ Warehouse Live
10/23 San Antonio, TX – White Rabbit
10/25 Mesa, AZ – The Underground