Jan 26, 2015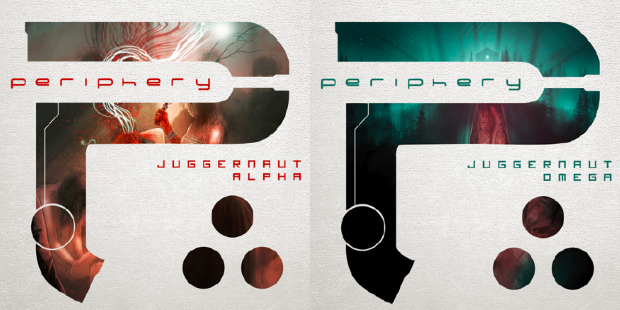 Periphery went into the studio and wrote enough material for two full albums to follow up last year's 'Clear' EP and their last full-length 'Periphery II.' The result are the dual concept albums 'Juggernaut: Alpha' & 'Juggernaut: Omega' a tale of birth and re-birth with the first album sharing the origins of the main character and the second offering sharing the gut-wrenching twists and turns the tale takes. Physical copies of 'Omega' also come with the JuggerDoc DVD featuring tons of behind the scenes footage.
Following a series of webisodes that each highlight that members contribution to the album, and both albums streaming on Bravewords, today they have released the official video for 'Alpha' which you can watch below.
Buy on iTunes at 'Juggernaut: Alpha' & 'Juggernaut: Omega'
Buy the 2CD+DVD Bundle at MapleMusic.com
Jan 22, 2015
Periphery is streaming their two new albums via BraveWords :Periphery - Juggernaut: Alpha Album Streaming In It's Entirety & Periphery - Juggernaut: Omega Stream Available. The two new albums are set for a Jan. 27 release via Distort Inc. / Fontana North.
The band is on the current cover of Outburn Magazine, drummer Matt Halpern graces the February issue of Drum! Magazine and singer Spencer Sotelo was on the cover of Revolver's recent "Future of Metal" issue. Alternative Press and Revolver have both awarded the two albums four stars while Outburn gave the collection a perfect 10, saying "Juggernaut… will most likely change the face of modern progressive metal as we know it." Metal Sucks called the releases "full-fledged masterpieces" and Rolling Stone dubbed the albums "the group's most ambitious project yet," saying it "features some of the band's most accessible music."
Digital and physical pre-orders for the pair of albums are available now with instant downloads of "22 Faces," "The Scourge" and "The Bad Thing" available via iTunes: Alpha and Omega. Physical pre-order bundles, which include The JuggerDoc, a documentary on the making of the new albums, are available via MapleMusic.com.
A series of webisodes documenting the recording sessions for the Juggernaut releases have been shared with fans over the past month. The clips can be found on Distort's YouTube channel.
Periphery is currently in the midst of a North American tour, with the band playing The Sunshine Theatre in Albuquerque this evening.
PERIPHERY ON TOUR (CANADA)
Feb 06 Toronto, ON - Opera House
Feb 07 Montreal, QC - Corona Theatre

Jan 7, 2015
Watch the new video from Comeback Kid on their Vevo channel above or HERE
"Didn't Even Mind" is taken from their latest record "Die Knowing" released March 4, 2014 on Distort in Canada. Buy the album on iTunes, Bandcamp, CD &amp vinyl.