Dec 12, 2013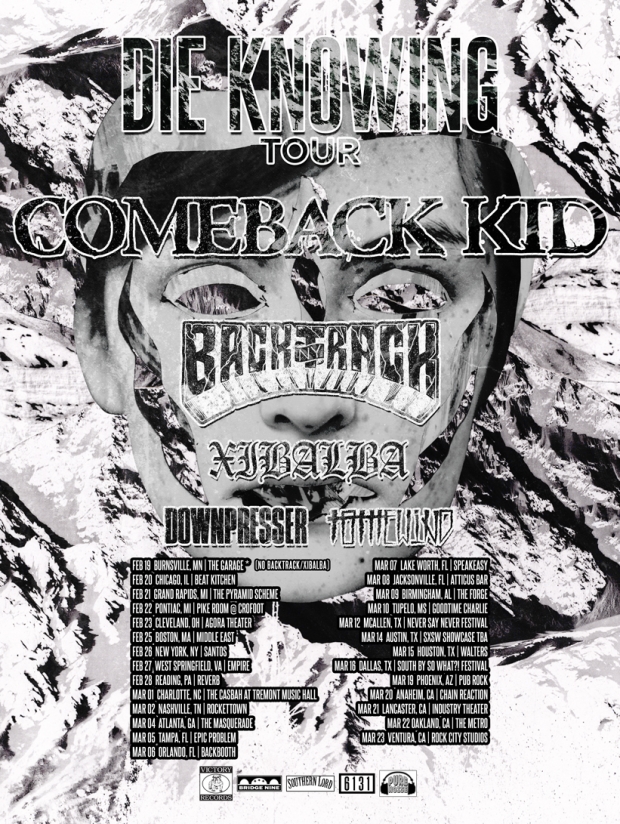 Comeback Kid have announced 'Die Knowing' tour slated for February 19th to March 23. The 2014 headline tour takes it's name from the title of the upcoming studio album. Joining the Winnipeg band are Backtrack, Xibalba, Downpresser and To The Wind for the cross-US tour. See the full dates below.
Feb 19 - Burnsville, MN - The Garage *No Backtrack & Xibalba*
Feb 20 - Chicago, IL - Beat Kitchen
Feb 21 - Grand Rapids, MI - The Pyramid Scheme
Feb 22 - Pontiac, MI - Pike Room @ Crofoot
Feb 23 - Cleveland, OH - Agora Theater
Feb 25 - Boston, MA - Middle East
Feb 26 - New York, NY - Santos
Feb 27 - West Springfield, VA - Empire
Feb 28 - Reading, PA - Reverb
Mar 1 - Charlotte, NC - The Casbah at Tremont Music Hall
Mar 2 - Nashville, TN - Rockettown
Mar 4 - Atlanta, GA - The Masquerade
Mar 5 - Tampa, FL - Epic Problem
Mar 6 - Orlando, FL - Backbooth
Mar 7 - Lake Worth, FL - Speakeasy
Mar 8 - Jacksonville, FL - Atticus Bar
Mar 9 - Birmingham, AL - The Forge
Mar 10 - Tupelo, MS - Goodtime Charlie
Mar 12 - McAllen, TX - Never Say Never Festival
Mar 14 - Austin, TX - SXSW Showcase TBA
Mar 15 - Houston, TX - Walters
Mar 16 - Dallas, TX - South By So What?! Festival
Mar 19 - Phoenix, AZ - Pub Rock
Mar 20 - Anaheim, CA - Chain Reaction
Mar 21 - Lancaster, CA - Industry Theater
Mar 22 - Oakland, CA - The Metro
Mar 23 - Ventura, CA - Rock City Studios
Dec 5, 2013
As a special gift to our fans we're bring you the 'Distort Holiday Sampler' featuring four free tracks from Sights & Sounds , Crossfaith, Obey the Brave , and Northlane . Enjoy a little something for yourself while you're out shopping for everyone else!

Listen to all of your Distort Store purchases on the go with the Bandcamp App for iOS and Android.
Buy Sights & Sounds 'Silver Door' Bandcamp - iTunes
Buy Crossfaith 'Apocalyze' Bandcamp - iTunes
Buy Northlane 'Singularity' iTunes
Buy Obey The Brave 'Quantum Flux' iTunes
Dec 3, 2013
The new experimental recording, Clear, represents the sum total of Periphery's unrivaled achievements. Clear is set for a Jan 28th release date in Canada and the US.
Jake Bowen (guitars) states: "Clear is an experiment to explore all of the different writing styles in the band. It's rare when you have a band where every member is capable of writing and producing music. With each member controlling their own track, this recording enabled us to go down any path we chose in terms of style and sound.
"Every track also contains a melodic theme established in Clear's intro track "Overture" this common thread links all of the songs together, even though they all sound wildly different. Clear shouldn't be confused with our new 3rd full-length album that we're currently working on, nor should it be considered an EP as it rides somewhere in-between clocking in at 30 minutes.